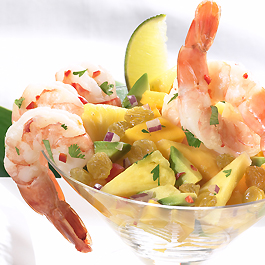 Courtesy of California Raisin Marketing Board
Serve With:
Lime wedges for a garnish. Tropical shrimp cocktail makes a refreshing first course or main dish for two.
Servings:
4
Prep Time:
20 Min.
Cook Time:
n/a
Chill Time:
1 Hr.
Sauce:
* Juice of 1 lime
* Juice of 1 orange
* 2 Tbsp. extra virgin olive oil
* 1 small jalapeno pepper; seeded deveined and minced
* 2 Tbsp. finely diced red onion
* kosher or sea salt and ground black pepper

Cocktail:
* 16 large cooked, peeled and deveined prawns size (16/20)
* 1/3 c. California golden raisins
* 1 c. diced fresh pineapple
* 1 ripe mango, diced
* 1 firm-ripe avocado, diced
* 2 Tbsp. cilantro, chopped
* 2 Tbsp. mint, chopped
* lime wedges for garnish
Sauce:
Whisk ingredients together and season with salt and pepper to taste. Refrigerate until needed.

Cocktail:
1. In a medium mixing bowl, toss prawns with 2 Tbsp. of the dressing to coat and set aside. Add remaining salad ingredients except lime wedges and toss with remaining dressing. Cover and chill well.
2. Divide chilled fruit mixture among 4 stemmed cocktail glasses or small bowls. Top with the prawns (4 or more per serving) and garnish with wedges of lime.

Chef's Note:
Sauce and cocktail ingredients should be prepared up to 1 hour in advance and refrigerated until ready to serve.

Visit www.loveyourraisins.com/recipes/ for more raisin recipes!

Nutritional information does not include suggested side dishes.
Calories: 240;
Total Fat: 14g;
Saturated Fat: 1g;
Cholesterol: 45mg;
Total Carbs: 33g;
Fiber: 7g;
Protein: 7g;
Sodium: 55mg;