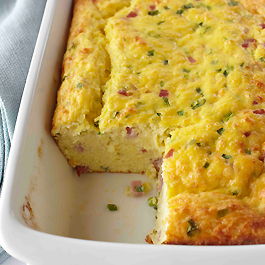 Courtesy of The incredible edible egg™
Servings: 12
Prep Time: 10 Min.
Cook Time: 40 Min.
* 12 eggs
* 1 carton (15 oz.) ricotta cheese or cottage cheese
* 1/2 c. all-purpose flour
* 1 tsp. baking powder
* 2 c. Italian cheese blend, shredded (8-oz.)
* 2 c. chopped cooked ham (8-oz.)
* 1/4 c. minced green onions
1. Heat oven to 350°F. Beat eggs in medium bowl until blended. Add ricotta cheese, flour, baking powder, Italian cheese,ham and green onions. Pour in greased 13x9-in. glass baking dish.
2. Bake in 350°F oven until puffed, golden and knife inserted near center comes out clean, 40-50 min.

* "For more ways to enjoy The incredible edible egg™, visit incredibleegg.org"
Calories: 225;
Total Fat: 13g;
Saturated Fat: 6g;
Cholesterol: 221mg;
Total Carbs: 7g;
Fiber: 0g;
Protein: 19g;
Sodium: 473mg;