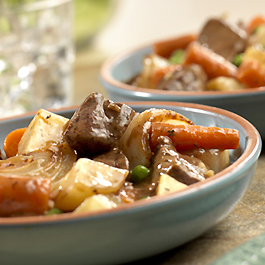 Courtesy of Campbell's® Kitchen
Servings: 6
Prep Time: 20 Min.
Cook Time: 10 Hr. 15 Min.
* 1-1/2 lb. beef for stew, cut into 1-in. pieces
* ground black pepper
* 1/4 c. flour
* 1 Tbsp. vegetable oil
* 1 lb. medium potatoes, cut into cubes (about 3 c.)
* 4 medium carrots, sliced, (about 2 c.)
* 2 medium onions, cut into wedges
* 4 cloves garlic, minced
* 3-1/4 c. Swanson® Beef Broth or Swanson® Beef Stock
* 1 Tbsp. Worcestershire sauce
* 1 tsp. dried thyme leaves, crushed
* 1 bay leaf
* 1 c. frozen thawed peas
1. Season the beef with black pepper. Coat the beef with 2 Tbsp. flour. Heat the oil in a 10-in. skillet over medium-high heat. Add the beef in 2 batches and cook until it's well browned, stirring often.
2. Place the potatoes, carrots, onions and garlic into a 5-qt. slow cooker. Top with the beef. Add 3 c. broth, Worcestershire, thyme and bay leaf.
3. Cover and cook on Low for 10 to 11 hr. or until the beef is fork-tender. Remove and discard the bay leaf.
4. Stir the remaining flour and broth in a small bowl until the mixture is smooth. Stir the flour mixture and peas in the cooker. Increase the heat to High. Cover and cook for 15 min. or until the mixture boils and thickens.

* Time-Saving: Or you may cook this recipe on for High 5 to 6 hr.
Calories: 285;
Total Fat: 8g;
Saturated Fat: 2g;
Cholesterol: 49mg;
Total Carbs: 30g;
Fiber: 5g;
Protein: 22g;
Sodium: 609mg;